E-commerce has revolutionised the business industry and pushed India towards the cusp of a digital revolution. With the extensive growth of Ecommerce market, i.e., trading of products and services using digital networking platforms, businesses have expanded their market presence by developing cost-effective and efficient distribution methods. The Indian E-commerce market is anticipated to increase to 188 billion US dollars by 2025, from 46.2 billion US dollars in 2020 and is estimated to reach US$ 350 billion by 2030.
More than just a means to sustain or expand current business practices, e-commerce is taking the form of an entirely new form of business, signifying a paradigm shift. It represents a change in thinking and is perhaps an innovation that's upending the status quo in the commercial world.
Key Factors driving the growth of E-commerce in India
1. Easy access to Internet Services
Easy access to the internet and smartphones, a result of rising standards of living, has led to an escalation in the convenience of online transactions and expansion in the digital userbase. Today, with easy accessibility of the internet even in remote rural areas due to the launch of 5G services and increased affordability, ecommerce has paced its growth in an unprecedented way. The convenience of online shopping and changes in the supporting ecosystem has further given rise to the country's online retail economy.
2. Rise in Digital literacy
Recent trends of rising digital literacy have led to increased investment in E-commerce businesses, balancing the market for new players to establish their foundation while rolling out fresh patterns to challenge established workings. Foreign investments have increased their funding in the Indian ecommerce sector due to strong growth prospects in the last ten years, and the graph is only going upwards.
3. Government Initiatives
The government has taken some significant initiatives to advance positive impact on the e-commerce business, such as Digital India, E-market, Skill-India, and the promotion of Unified Payments Interface (UPI) over almost all national platforms. "Digital India Project" will provide a centralised location for all administrative processes, with the mobile phone serving as the primary means, which will boost the e-commerce industry.  These initiatives will considerably impact expanding the access of companies in the e-commerce industry to places that are often inaccessible, hence boosting the expansion of the industry.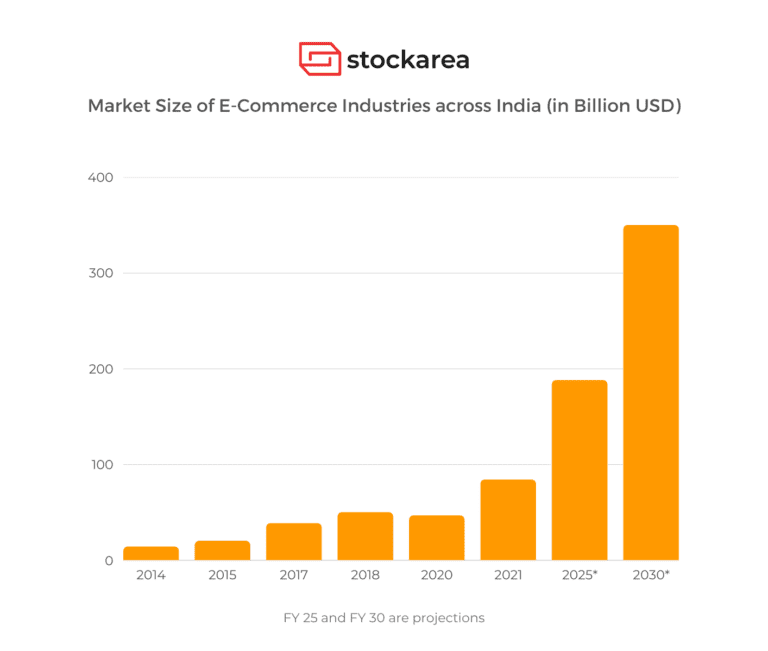 With the E-Commerce industry's annual growth rate tripling, India offers a higher market potential. The E-commerce industry was estimated to be worth USD 38.5 billion in 2017 and had become India's fastest-growing sector. By 2034, India is projected to surpass the United States as the second-largest E-commerce market in the world. The E-commerce market is estimated to reach 188 billion US dollars by 2025, from 46.2 billion US dollars in 2020 and US$ 350 billion by 2030.
Impact of COVID-19 on Indian E-Commerce
COVID-19 pandemic has significantly boosted online business and created new potential and opportunities for e-commerce corporations due to high consumer demand post-lockdown. Coronavirus has altered the shopping patterns of individuals. Customers who have never utilised mobile grocery shopping have abandoned their rigid routines and adapted to online transactions without difficulty. According to the most recent research from IPSOS, customers have increased the frequency of online purchases (UNCTAD, 2020). India experienced a 55 percent growth in online buying because of the current shift in customer behaviour caused by COVID – 19, which has accelerated the expansion of E-commerce in India.
Challenges & Scope of Reforms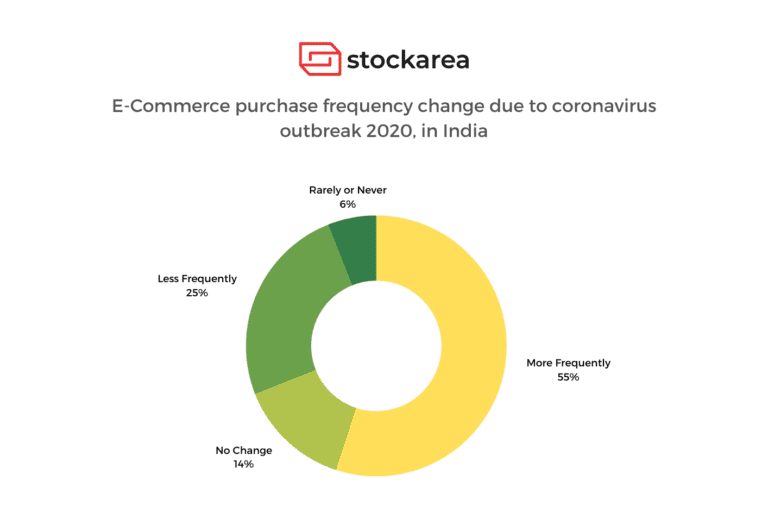 To ensure an exponential growth, Ecommerce businesses must address certain challenges by adopting various reformative measures:
The government needs to provide legal security and a framework for e-commerce. This is necessary in order to ensure that both domestic and international trade are allowed to expand their basic rights, including intellectual property, privacy, the prevention of fraud, and consumer protection, amongst other things.

Strengthening logistics infrastructure and service levels in the ecommerce industry, as the need for warehousing will increase in the coming years as ecommerce activity grows.

As ecommerce transitions to a mobile platform, security, privacy breaches, and fraudulent transactions must be addressed.

 

Rules governing the taxes and pricing of products for international and domestic businesses. The government and other competent ecommerce enterprises should engage in a continuous dialogue addressing the complexity of tax evasion, FDI, and commercial loopholes.
Ecommerce is presently an indispensable ingredient of India's trade facilitation policy. In addition to saving time and money, e-commerce allows users to access a wider variety of products at lower prices, as well as access to a larger selection within the comforts of their homes. In India, e-commerce is gaining traction as a marketing strategy; as people get more familiar and comfortable with technology, they are beginning to place more trust in online businesses. Ecommerce will face limitations as it evolves, but it has the potential for growth because of the increasing number of internet users and technological advancements, which should be capitalized on by Indian Businesses and markets.